Fairchild Model 255 - 25 Watt Power Amplifier
---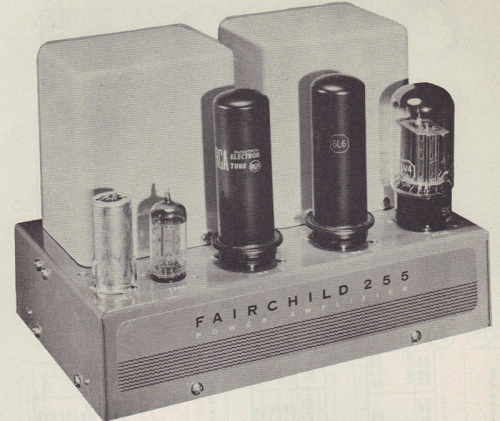 ---
Message Board - Fairchild Model 255 25 Watt Power Amplifier - General Discussion
---
The Fairchild 255 is the ideal power amplifier for the average home or apartment where the higher power rating of the Fairchild 260 50 watt amplifier is not desired. The 255 has been particularly designed for high quality reproduction of music and all other types of program material. Featuring excellent transient response and unusually low distortion at normal and low power operating levels the 255 delivers full power throughout the entire audio frequency spectrum, not only to a resistive load, but also to a speaker load which is, of course, the load presented to it in ordinary use.
The 255 incorporates many of the excellent design features used in the 260 such as the exclusive Fairchild distortion-cancelling control which makes it possible to maintain the low distortion performance originally built into the amplifier. Output tubes almost never age equally. In many amplifiers this results in increased distortion requiring replacement of the tubes with matched new ones. With the 255, new performance can be restored in a matter of seconds, and this aural check on performance can be made as often as desired.
Measuring only 6" x 9.5", the 255 is extremely compact. There is almost no situation where room for it cannot be found. Construction is simple and rugged and reflects the design purpose of this amplifier which was to provide the best possible power amplifier for high quality home music systems without "gimmicks" which could only add to the cost without adding equally to the enjoyment to be derived from a high quality amplifier. Only by keeping strictly to this philosophy could this truly excellent professional quality amplifier be offered at such low cost.
SPECIFICATIONS
· Power Output 25 watts
· Controlled
· Frequency Response ..+0, —0.5 lib from 20 to 20,000 cps
· Input ........................Full 25 watt output with input of 0.9 volts
· Intermodulation Distortion..................Under 2% at 25 watts, Under 0.5% at 22 watts, Under 0.2% below 15 watts
· Harmonic Distortion....Under 1.0% at 25 watts, Under 0.2% at 22 watts
· Noise.....................In excess of 80 db below rated output
· Exclusive Fairchild Balance Control results in proper balance of output tubes without use of test equipment.
· Fixed Bias Supply using selenium rectifier.
· Controls and Input/Output: Master gain, AC Balance, Test Button, 8 & 16 ohms output terminals, Input phono jack (100,000 ohms), and Auxiliory AC outlet
· Tubes 1 Type 6AB4, 1 Type 12AU7, 2 Type 6L6GB*, 1 Type SV4GA
6L6G, 6L6, 1614, 5881 are interchangeable.
· Dimensions................9.5" wide x 6" deep x iW high
· Weight 17 lbs.
---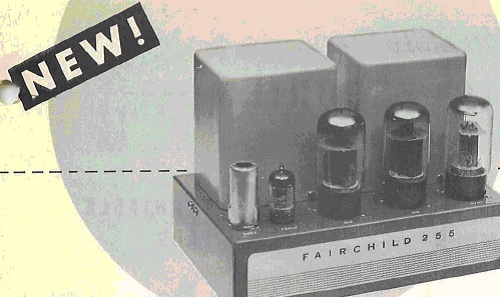 ---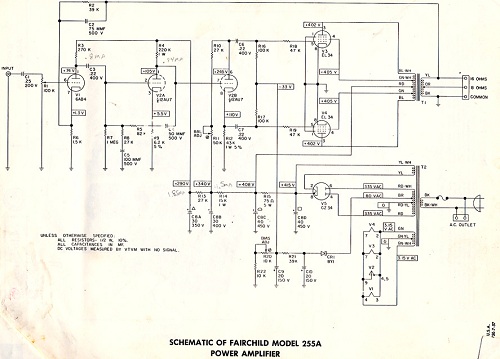 ---
---
Fairchild Model 255 - 25 Watt Power Amplifier
Do you have content, to add, about the Fairchild Model 255 - 25 Watt Power Amplifier or associated topics? Please feel free to Share it, here!
What other Visitors have said about the Fairchild Model 255 - 25 Watt Power Amplifier
Click below to see contributions from other visitors to this page...

mike88max Not rated yet
I have what looks like a 255 amp but is has no ID plate and Volume,Bass and Balance post on the back of the amp any one have any information in this amp? …
Bruce Brown Vintage Tube Audio Not rated yet
I am in desperate need of a copy of the factory manual on the Fairchild 275's. I have rebuilt a pair but have not been able to find out how to set up the …