Recording, Film and Broadcast Consoles
Message Board - Recording Consoles General Discussion
---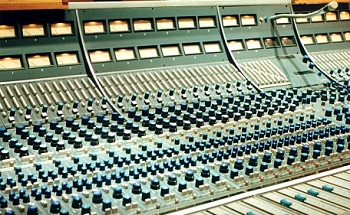 ---
The design of today's sophisticated recording console is quite complex, due to the multiplicity of devices associated with the mixing network, such as dynamics processing and automation. Many will recall when paralleled battery rheostats were used as mixer controls for broadcasting and motion picture sound recording, and will view the modern console as an outgrowth of the basic principles applied at the time.
With miniaturization, many components are now included in the mixer network, rather than at a remote position. Printed circuit plug-in designed components facilitate replacement in the event of failure. Several different types on analogue solid-state and vacuum tube mixers exist along with solid-state digital mixing desks.
The mixing console can be a complicated piece of equipment but, in its respective fundamental electronic core, its main function is relatively simple. At minimum a mixer consists of a resistive network, which may consist of a passive combining or active combining network, designed to provide a means of combining two or more separate audio sources into one, or more, composite signal(s). The layout of the console may be of either a split design or, the ever popular, in-line design. Below you will discover a variety of diverse, unique and in some cases atypical recording consoles

Foundational text inspired by Howard M. Tremaine's, "Audio Cyclopedia" and "Audio Engineering know it all".
Helios Electronics Consoles
---
---
Loading
---
---
Recording and Film Consoles
Do you have content, to add, about Recording and Film Consoles or associated topics? Please feel free to Share it, here!
What other Visitors have said about Recording and Film Consoles
Click below to see contributions from other visitors to this page...

---