Trident Series 80B Recording Console
by Chris J
(FL)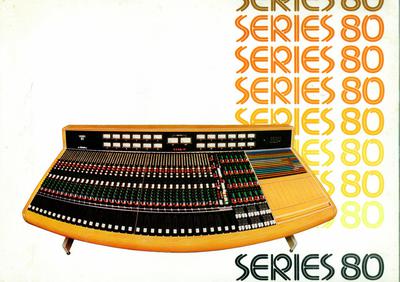 Trident Series 80B Brochure Cover
The "Series 80" has been designed as a direct result of demand from studio owners for a recording console that offers the highest technical specifications, overall facilities and sound quality of the standard that has come to be associated with the name Trident, whilst keeping the overall price within the budget of most studios.


Electronic and mechanical design is based on the highly successful T.S.M. console and has therefore a head start in that the reliability factor is already well proven. Series 80 is capable of handling the most complex of recording and mix-down sessions and full automation is available as standard or as a retro-fit package.
Series 80 offers a fully modular patch bay using cross point professional bantam jacks. To service the patch bay is now the simplest of operations and re-programming is possible by changing wire links on the individual printed cards. Individual jack sockets can also be cleaned in a matter of minutes.
For the studio engineer servicing is of the utmost ease because of the modular design. Each module has full component identification making the sourcing of a problem a very quick and methodical operation. Changing a potentiometer on some consoles can involve a complete strip-down and a great deal of soldering – on Series 80 all pots are replaceable in minutes as they are wire linked to the board itself. Throughout the console all relays are completely electronic, obviating the wear and tear normally associated with mechanical relays.
The latest generation of plug-in op-amps are used throughout the Series 80 and as a result distortion figures are extremely low, whilst transient response and sound quality are of the highest order.
The module panels are manufactured in black brushed aluminum and the lettering is anodized into the panel making it completely wear resistant.
The general construction of Series 80 is aluminum sheet-profile and box section shell tubes giving great overall strength and rigidity.
All connections are situated underneath the console, keeping cabling completely unobtrusive. The connections themselves are ITT D.L. zero insertion force and are gold plated.
The overall finish of the console is extremely attractive and it is clad in solid English Ash. Other wood finishes are available to customer specification. Although the Series 80 is built in standard frame size it is possible to have various custom modifications undertaken, such as built-in tape mating remotes or ancillary equipment in the patch bay area.
Foundational text courtesy of Trident.