Outboard Recording Equipment
Message Board - Outboard Recording Equipment General Discussion
---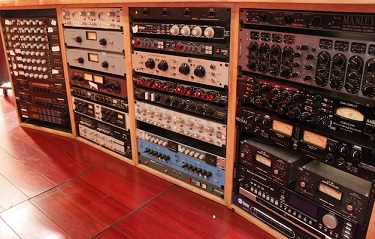 ---
Musical "outboard equipment" or "gear" is used to alter how a musical instrument sounds. Outboard, (external effects processing and dynamics processing) can be used either during a live performance or in the recording studio. The term "outboard" was originally used to describe a piece of audio equipment that existed outside of a studio or venue's primary analog mixing board. Today, analog effects are also considered "outboard" when used in conjunction with console-free computer-based digital recording systems.
Famous examples include UREI's analog dynamic range compressors, such as the LA-2A and 1176, early multi-effects units like those made by Eventide, and physical or digital reverb processors invented by EMT and Lexicon.
These are separate from the processing that may be applied by using a mixing console or a digital audio workstation. Some outboard effects units and digital signal processing (DSP) boxes commonly found in a studio are:
-Analog-to-digital and digital-to-analog converters
-Musical instrument digital interfaces (MIDIs)
-Microphone preamplifiers ("microphone preamp", "mic preamps" or "preamps")
-Equalizers ("EQs")
-Dynamics processing units: compressors/limiters, noise gates time-based effects units: reverb, flanging, delay, echo, chorus etc.
Tube Equipment Corporation
---
---
Loading
---
---
Outboard Recording Equipment
Do you have content, to add, about Outboard Recording Equipment or associated topics? Please feel free to Share it, here!
What other Visitors have said about Outboard Recording Equipment
Click below to see contributions from other visitors to this page...

Prof. John Sisti Not rated yet
I do see a mention of Alison with the Kepex and GainBrain. They both made strong contributions to the development of signal processing. As a programmable …
Audiophile Not rated yet
I used to work in radio, and I have always been fascinated with audio recording and production. On a tour of RCA Studio B in Nashville, I saw two "Mojo …
---