Fairchild 670 Compressor/Limiter
Message Board - Fairchild 670 Compressor/Limiter General Discussion
---
Fairchild 670 Operation Manual and Schematic
Fairchild 660 and 670 Technical Bulletin
---
The FAIRCHILD MODEL 670 incorporates on one chassis two independent limiters which can limit either two independent signals, such as the left and right channels of a stereo signal, or the vertical and lateral components of same. The latter is accomplished by first bringing the two stereo channels through a matrixing network, dividing than into their vertical and lateral components, limiting them independently, and recombining them through a second matrixing network into left and right channels.
Each half of the MODEL 670 uses only a single push-pull stage of audio amplification and an extremely high control voltage, with the result that the Automatic Gain-Controlled Amplifier never produces any audible or observable thumps. Contrary to most limiting amplifiers heretofore available, this unit has extremely low distortion and noise under all conditions, both as a straight-through amplifier and under maximum limiting conditions.
The attack time of the unit is made extremely fast in order to catch short transients, and the release time is made adjustable from 0.3 seconds to 25 seconds in six steps. Two of these have release times which are automatic functions of the program material, providing fast recovery for short-duration peaks and an automatic reduction with very long recovery time of overall gain should the program level remain high.
In the circuitry used, each half of the amplifier consists of two separate amplifiers; one is the Automatic Gain Amplifier, and the other provides the necessary power for producing the DC control voltage. Because of this, the controls are somewhat different from those of most other limiters. Essentially there is one control common to both channels which will switch between independent limiting and vertical-lateral component limiting, besides four controls for each channel; a Switch for Metering; an Input Level Control; a Limiting Threshold Control; and an Attack and Release Time Switch.
Owing to the wide choice of attack and release time, as well as the automatic recovery feature, this unit can be used to limit program material severely without producing the audible thumps or pumping so often associated with limited program material. A limiting meter is provided with provision for connecting a remote meter to the terminals exposed at the rear of the amplifiers.
The MODEL 670 is designed to be placed into any normal line level circuit and can be set to have a unity gain at no limiting. Since all critical components are of highest quality, working well below their maximum ratings, a dependable operation can be expected.
Foundational text courtesy of the Fairchild Operations and Service literature.
---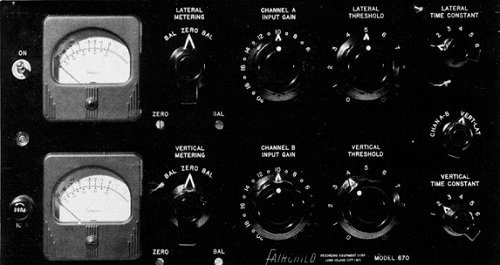 FIRST MODERN LIMITER
A radical departure from the classical limiter design in the MODEL 670 is characterized by the conslete absence of audible thumps, absence of distortion and noise, and it is extiremely stable over long periods of time.
4 UNITS IN ONE
The MODEL 670 is either 2 Independent Limiters, or by the flick of a switch a Vertical-Lateral Component Limiter — all this enclosed within 14 inches of rack space. space.
---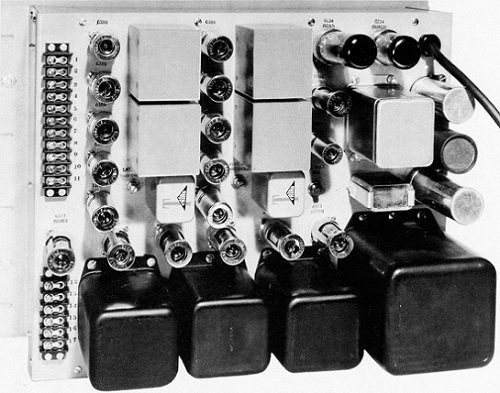 INDEPENDENT CONTROL OF BOTH VERTICAL AND LATERAL AMPLITUDES ON STEREO DISKS
Large vertical amplitudes on STEREO DISKS often produce processing as well as tracking problems. Large vertical amplitudes are produced by raindom coincidence of out-of-phase components in the two STEREO channels. The MODEL 670 is the only unit presently in production which can control both components (vertical and lateral) independently, and accomplish this with minimum loss of separation.
EXTREMELY FAST ATTACK TIME
Many a short transient can pass through conventional limiters because of their slowness in attack. The MODEL 670 can produce full limiting effect during the first 10,000ths of a second.
---
VARIABLE RELEASE TIME
Different program materials require different limiting action. By choosing the correct release time characteristic, even severe limiting can be made to be practically imperceptible. The MODEL 670 supplies six different timing curves, several of them making the release time an automatic function of the amount of limiting used.
LIMITER OR COMPRESSOR
The type of program material as well as personal preference dictate the use of either a limiter or a ccmpressor. The MODEL 670 can be adjusted to work either as a compressor, with a ratio of 2 to 1 and a threshold of 5 db below normal program level; or as a peak limiter, with a compression ratio of 30 to 1 and a threshold of 10 db above normal program level; or it can be adjusted to operate anywhere in-between these two extremes.
RELIABILITY
Highest grade commercial and military components are used throughout working well below their maximum ratings to insure long, trouble-free operation.
---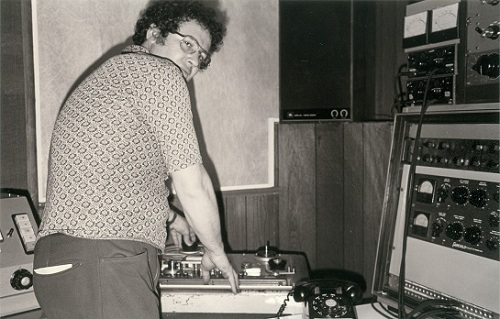 - Fairchild 670 Compressor/Limiter used at Sound Exchange Studios New York, NY - The 670 was being utilized as a Vertical-Lateral component limiter for the associated disc cutting lathe - circa late 1960's
---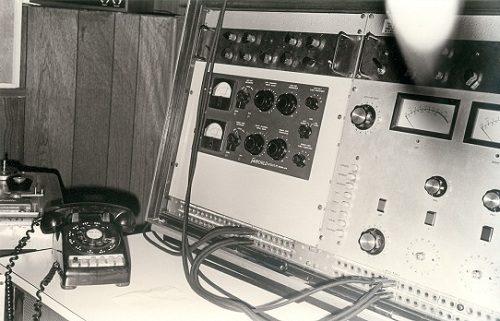 - Fairchild 670 Compressor/Limiter used at Sound Exchange Studios New York, NY - The 670 was being utilized as a Vertical-Lateral component limiter for the associated disc cutting lathe - circa late 1960's
---
---
---
Fairchild 670 Compressor/Limiter
Do you have content, to add, about the Fairchild 670 Compressor/Limiter or associated topics? Please feel free to Share it, here!
What other Visitors have said about the Fairchild 670 Compressor/Limiter
Click below to see contributions from other visitors to this page...