Fairchild 659A REVERBERTRON - Dynamic Reverberation System
---
Message Board - Fairchild 659A REVERBERTRON - Dynamic Reverberation System - General Discussion
---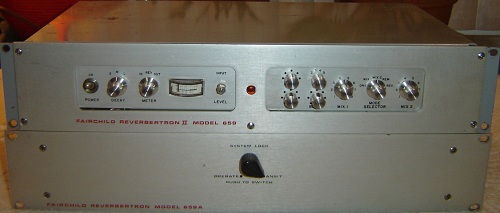 The reverberation device shall be completely self-contaihed on two rack-mountable chassis 3-1/2" high by 19" wide by 10" deep. The units shall have brushed aluminum front panels. It shall have a locking mechanism to prevent generator vibration and damage in transit.
All electronics shall be solid state and contained on two plug-in PC boards. The device shall have an input impedance of 600 ohms balanced or unbalanced. It shall be capable of operating at an input level as low as —30 dBm and shall have an output capability of +18 dBm.
The reverberation device shall provide complete equalization of the reverberated signal, instant selection of three signal decay time constants, remote selection of three degrees of reverberation and continuously variable local mix control. The device shall have a frequency response on dry channel within ±1 dB from 20 Hz to 20 kHz and on reverberated channel from 50 Hz to 6 kHz, adjustable 15 dB.
The device shall operate from a power source of 110-120 VAC, 50/60 Hz, 30 watts.


Features:
Provides up to 30 dB of gain.

Excellent signal to noise. (65 dB)

Full range equalization.

Instant selection of 3 decay times.

VU metering of all signals in the system.

Local & Remote selection of 3 degrees of reverberation.

Function selector switch for dry fully or partially reverberated

signal, or remote control.

Continuously variable local reverb mix controls.

Solid-state electronics on plug-in p.c. boards.

Transformer isolated input & output.

Requires only 7" of vertical rack space.

Exclusive "system lock" for transit.
---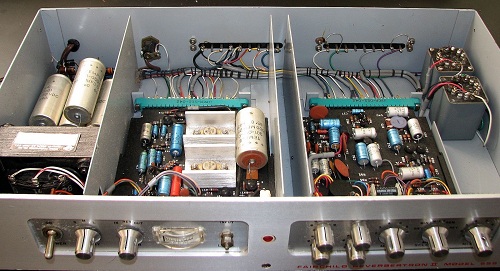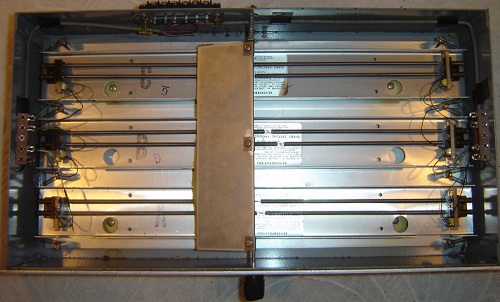 ---
Fairchild 659A REVERBERTRON - Dynamic Reverberation System
Do you have content, to add, about the Fairchild 659A REVERBERTRON - Dynamic Reverberation System or associated topics? Please feel free to Share it, here!