MCI JH-110M Disc Mastering Reproducer
---
Message Board - MCI JH-110M Disc Mastering Reproducer
---
The JH-110M is the first logically designed disc mastering reproducer having the transport microprocessor control lathe functions.


★ Totally transformerless electronics
★ Va and V2 inch master tape recorders
★ Head azimuth adjustable without tools
★ Head alignment ultra stable
★ Electronics, transport and power supply 19" rack mountable
★ 3 speed quartz controlled transport—7.5, 15, 30 ips
★ NAB/IEC switching provided
★ Separate equalization and bias controls for 3 speeds
★ External equalization controls
★ No relays in transport-completely solid state with high response DC torque motors
★ Constant tape tension: ±V4 02. for all speeds
and all reel sizes (max. 14")
★ Adjustable fast wind and RTZ speeds for extreme care in handling master tapes
★ Variable speed control—6 to 36 ips
★ "Paper Basket" and "Hand Spool" edit modes
★ Additional optical sensor for automatic lathe spiral/banding function
★ DIN or NAB standard head assembly available
★ Delay times for any lathe system available (.5, .6 or 1 turn table revolution)
★ Remote Motion control available
★ The microprocessor based RTZ lll/M standard equipment featuring:

*4 tape position memories, RTZ function and 20 additional memories for "banding/spiraling", "expand/echo" and "leadout" functions
*Up/down real time counter in minutes/seconds
*Tape speed indicator in ips
*Presettable counter
★ Variable profile cabinet optional
★ Modular design enhances serviceability
Photos and foundational text courtesy of Larry Lamoray and Carla Harned, of MCI.
---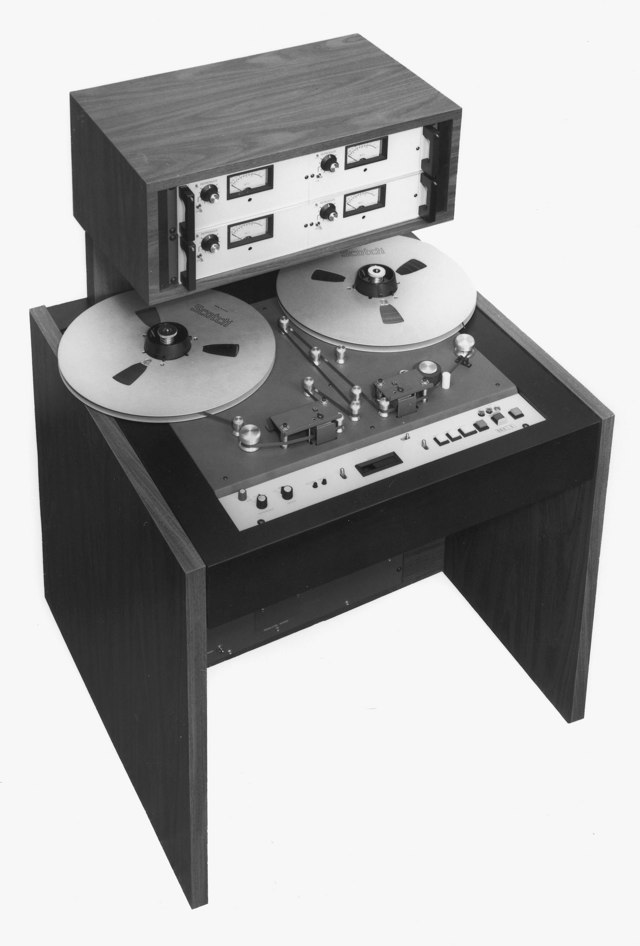 ---
---
---