Magnecord - Magnecorder PT6-A Tape Machine
---
Message Board - Magnecord - Magnecorder PT6-A
Magnecord - Magnecorder PT6-A - Instruction Manual
Magnecorder PT Series - Engineering and Maintenance Notes
---
The Magnecorder PT6-A is a tape recording mechanism designed for use in combination with the ampifiers and other units of the PT6 Series. It consists of a tape transport mechanism, erase head, record-reproduce head, bias oscillator and control switch, assembled into a single unit.
Filament current and plate current for the bias oscillator tube must be supplied by an external source if the PT6-A is not used in conjunction with one of the PT6 Series amplifiers.
Every PT6-A unit is supplied with one type 12AU7 tube already mounted in its socket. This is the bias oscillator. Two sets of capstan-pressure roller combinations are furnished with each unit; one set for operation at 15 inches per second, the other for 7 1/2 inches per second. One set is in place on the front panel, the other set is contained in a shipping bag. The capstans are provided with tapered holes to mate with the tapered capstan shaft on the front panel. The large capstan and small pressure roller combination provides for the higner tape speed.
Foundational text courtesy of Magnecorder PT6-A Instruction Manual.
---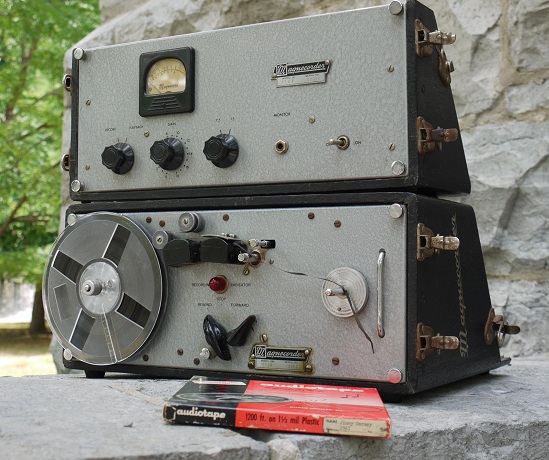 Photo courtesy of Queen's College Archives.
---
---
Magnecord - Magnecorder PT6-A
Do you have content, to add, about the Magnecord - Magnecorder PT6-A or associated topics? Please feel free to Share it, here!
What other Visitors have said about the Magnecord - Magnecorder PT6-A
Click below to see contributions from other visitors to this page...

Antique Magnecord collection

I have dozens of early Magnecord transports and preamps (some believed to be Demo's & prototypes) and hundreds/thousands of parts and manuals. All from …