Melba Moore
---
In 1975, Moore signed with Buddah Records and released the critically successful R&B album, Peach Melba, which included the minor hit, "I Am His Lady". The following year, in 1976, Moore scored her first significant hit with the Van McCoy-penned "This Is It", which reached the Billboard Hot 100, the top twenty position on the R&B chart and also reached the top ten in the UK, becoming her biggest success in that country.


In 1976, she scored her third Grammy nomination with the R&B ballad, "Lean on Me", which had been recorded originally by Vivian Reed and later by Moore's idol Aretha Franklin who recorded the song as a b-side to her 1971 hit, "Spanish Harlem". The song is most notable for Moore's extended long note at the end of the track. In 1983, she re-recorded the song as a tribute to McCoy, who died four years earlier of illness. Throughout the rest of the 1970s, Moore struggled to match the success of This Is It with minor R&B/dance hits, gaining another hit with 1979's "You Stepped Into My Life", which was released on Epic Records and hit the top 20 on the R&B charts and also became one of her biggest pop hits.
In 1982 Moore signed with Capitol Records and reaching the top 5 on the R&B charts with the dance pop/funk single, "Love's Comin' At Ya", which also hit the top 20 in the UK and became a sizable hit in some European countries for its post-disco sound. A string of R&B hits would follow during this decade including 1983's "Keepin' My Lover Satisfied" and "Love Me Right", 1984's "Livin' For Your Love", 1985's "Read My Lips", which later won Moore a fourth Grammy nomination for Best Female Rock Vocal Performance, making her just the third black artist after Donna Summer and Michael Jackson to be nominated in the rock category, and 1985's "When You Love Me Like This". In 1986, she scored two number-one R&B hits, including the duet, "A Little Bit More", with Freddie Jackson and "Falling". She scored other popular R&B hits including "Love the One I'm With (A Lot of Love)" and "It's Been So Long". In 1986, Moore also headlined the CBS television sitcom Melba, that debuted the same night as the Challenger explosion and was abruptly cancelled after its debut telecast (with five additional episodes airing later that summer). Her success began to wane as the decade closed, although she managed two further Top 10 R&B hits, "Do You Really (Want My Love)" and "Lift Every Voice and Sing" (which featured such artists as Jackson, Stevie Wonder, Aretha Franklin, Jeffrey Osborne, Anita Baker and Stephanie Mills)
-Foundational text courtesy of Wikipedia.
---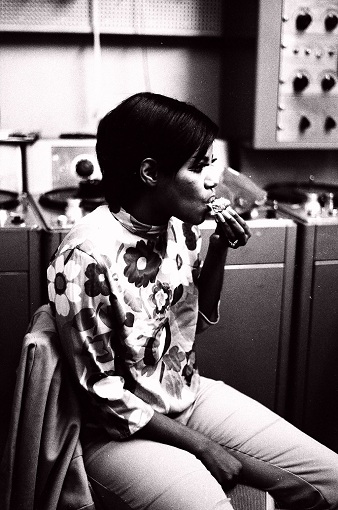 Melba Moore, on a break from singing background vocals, on a Mira Sound Studios, NYC session - Photo courtesy of George Schowerer.
---
---
---
Write about Melba Moore!
Do you have content or pictures, to add, of Melba Moore? Do you just want to say "Hello!"? Please feel free to Share it, here!
What other Visitors have said about Melba Moore!
Click below to see contributions from other visitors to this page...