Otari MTR-15 Mastering Tape Recorder
---
Message Board - Otari MTR-15 Mastering Tape Recorder - General Discussion

---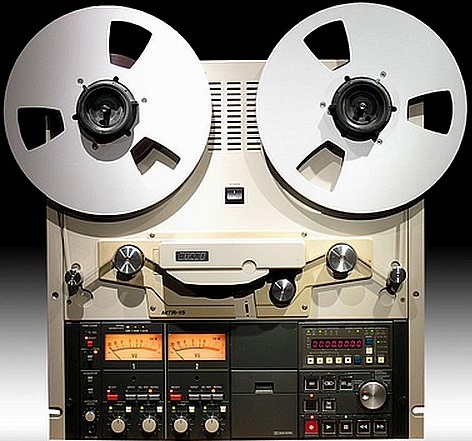 The Otari MTR-15 Mastering Tape Recorder is available in eight models as shown below. Four tape speeds (30, 15, 7.5 and 3.75 ips) and four equalization standards (AES, NAB, NAB-J, and IEC) can be selected on all machines.
MTR-15N: 1/4" NAB 2trk 2ch, Standard Cabinet
MTR-15T: 1/4" NAB 2trk 2ch + timecode, Standard Cabinet
MTR-15D: 1/4" DIN Stereo, Standard Cabinet
MTR-15N-M: 1/4" NAB 2trk 2ch, Meterbridge Type
MTR-15T-M: 1/4" NAB 2trk 2ch + timecode, Meterbridge Type
MTR-15D-M: 1/4" DIN Stereo, Meterbridge Type
MTR-15H-M: 1/2" 2trk 2ch, Meterbridge Type
MTR-15H2/4-M: 1/2" 4trk 2ch, Meterbridge Type

Features
Fully Automated Audio Alignment: The Auto Alignment system permits Fully Automatic, Partially Automatic, and Manual alignment of Record and Reproduce parameters such as Gain, High-, Mid-, and Low-Frequency Equalizations, Phase Compensation, and Bias Level. Alignment data for four different tape formulations at each speed and equalization setting can be stored and "kept alive" by a long-life lithium battery after the power is turned off. A built-in digitally controlled oscillator speeds testing and adjustment. Frequencies and levels of test signals are automatically selected to match the tape speed and alignment procedure being performed. The oscillator frequencies and levels can easily be changed from the factory settings to suit unique requirements. Manual adjustment of the record circuit can be performed with the built-in oscillator or with an external oscillator.
Transport: The MTR-15 accepts reels of up to 12.5 inches in diameter with EIA, NAB and DIN (CCIR) hubs. An optical sensor signals reel size to a "pulse width modulation" reel drive system which adjusts transport ballistics accordingly. Optical sensors on the tension arms signal the reel servo to maintain constant tape tension in all modes (except Edit and Unload). Thus, constant tension is maintained even when the tape is "rocked" by hand in Stop mode. The deck plate is made of one inch thick diecast aluminum for stability, and is machined for precise mounting of all mechanical components. A Cue Wheel on the transport allows the user to vary tape speed in either direction at any speed including Fast Wind. In Shuttle mode tape speed increases with the amount the cue wheel is turned, and continues to "Shuttle" until the wheel is turned a similar distance in the opposite direction. Pressing STOP also ends shuttle winding. In Jog mode tape motion follows the pattern of Cue Wheel movement: when turned quickly the tape moves quickly, when the cue wheel stops the transport stops.
Special Features: Dolby HX Pro Head Room Extension* increases high frequency dynamic headroom, and thus the maximum output level. HX Pro accomplishes this by continuously monitoring high frequency content of the input signal and adjusting the record bias accordingly, without self biasing effects. HX pro is not noise reduction, and needs no decoding. The software program enables redefinition of many of the machines operating characteristics. For example, the arrangement of the Transport Control buttons can be changed by merely changing the settings (shown on the Alignment display) and then rearranging the button caps. In addition, the way each button functions can change. For example, Punch In/Out methods can be changed from the alignment panel. The MTR-15 wear meter allows easy maintenance scheduling. Total Power-on hours, total Head Wear hours, and total Lifter Wear hours, are measured and the values are stored in memory. Speed display is in inches per second (ips), centimeters per second (cps), or as a percent of the selected speed or the tape time. The tape time can be displayed as hours, minutes, seconds, and tenths of a second; or, as hours, minutes, seconds, and frames. The Tape Timer will display frames calculated from tachometer pulses. If the optional Time Code Modules are installed, the Timer will show SMPTE/EBU timecode when present. In addition, during emergencies the display shows error messages.
Built-in four point Locator includes: Three "one touch" Cue points, Search Zero, and Last Play Search (which returns the tape to the point at which the machine was last placed in Play mode). Repeat mode can perform continuous Play-Rewind-Play operation between any two selected Cue points an unlimited number of times.
There are several means of remote control. Each machine is equipped with a standard parallel interface for transport control, status tallies, tachometer pulses, and speed control signals. The MTR-15 can be linked with an optional remote transport controller, an auto locator, or a synchronizer. The following optional modules are available:
Serial Control interface conforming to RS-232-C standard
Serial Control interface conforming to RS-422-A standard
Fader Start control
Input and Output level is selectable at +4 dBu or -16 dBu, (adjustable between +13 dBu and -20 dBu) and line output can be switched to balanced or unbalanced operation.
Four equalization and four crystal-locked speed settings: Equalization can be selected from AES, NAB, NAB-J, or IEC standards for each speed (except 30 ips for which there is only one standard: AES).
User friendly hardware design features:
The Transport Control/Tape Timer Panel can be relocated to the left side of the tape transport to accommodate left-handed users.
Built in monitor speaker
Optional 19" roll-around stand enables MTR-15 to tilt 90 degrees forward or backward for easy access to transport and electronics
Models with bridge type meter panel having amplifier mode switches, I/O level controls and monitor speaker
Foundational text courtesy of Otari, Inc.
---
---
Otari MTR-15 Series Tape Machine
Do you have content, to add, about the Otari MTR-15 Series Tape Machine or associated topics? Please feel free to Share it, here!