AMPEX MM-1000 8 Track -The Story of Matilda
by Cory
(Oregon)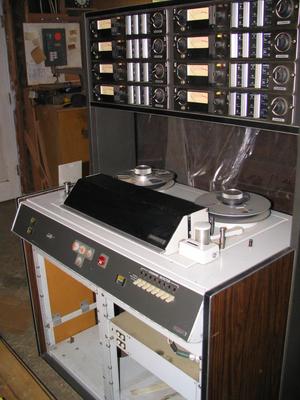 Here it is shortly after getting it into the shop in 2009. A bit dirty, pretty straight and complete, with some odd inclusions and evidence of historical use as a 2
I own a very early MM-1000-8 that spent at least part of its life in video sweetening at Universal Studios. There is no serial number plate and certain elements of its construction and circuitry support that it may be pre-"production", though this is certainly arguable. It ended up with a retired Ampex employee and ultimately with his daughter after he passed away. I bought it from her in 2009, and have spent the years since then doing in-depth restoration work on it. The full story can be found at:


http://homerecording.com/bbs/general-discussions/analog-only/ampex-mm-1000-story-290708/
Some consider the MM-1000 to be ungainly and crude. I see it as a wonderfully over-engineered piece of precision machinery that stands as a (large) milepost in recording history. There is nothing like it!
Cory
Click here to read or post comments
Join in and write your own page! It's easy to do. How? Simply click here to return to Ampex MM-1000 Tape Machine.