AMPEX 350 Tape Recorder
Message Board - AMPEX Model 350 General Discussion
---
The Ampex Model 350 magnetic tape recorder is a two-speed audio recorder designed for use with standard ¼ inch tape. The Model 350 is available in console, two-case portable, and rack-mount styles, all with either full or half track heads.

Independent record and playback systems allow the tape to be monitored while recording. A phone jack is provided to monitor either the record input signal before or during recording, or the output signal from the playback head while recording or during playback. An A-B switch is incorporated in order that direct comparison can be made between the original program and the recorded program. The same switch transfers a 4 inch VU meter for level comparison and monitoring. The VU Meter is also used to read bias and erase current.
1953 was quite a year with projects started in 1952. As mentioned earlier, Ampex was having production problems with the Model 400. Frank Lennert, although he was head of manufacturing, decided to do some engineering on his own. One weekend, he took the reel motor assemblies from the Model 300 and the capstan, head assembly and electronics from the Model 400 and machined a new top plate. He had Jay McKnight handle the electronic details. They then put it all together, and this recorder became the Model 350 of which more than 6,000 were sold. It is a proud Ampex success story.
Foundational text courtesy of Ross H. Snyder and John Leslie from the AES Historical Committee paper, "History of The Early Days of Ampex Corporation" and the AMPEX Model 350 operation and service literature.
---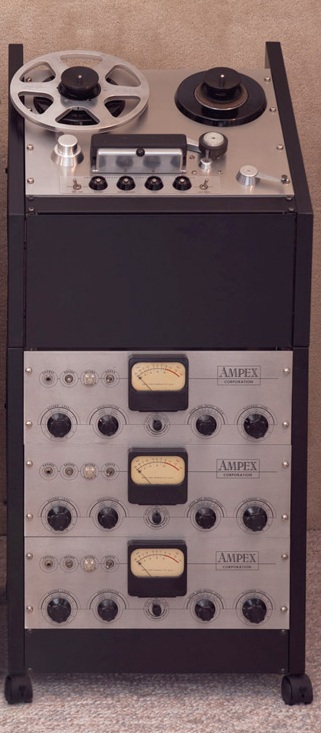 - Ampex 350-3 fully restored by Steve Puntolillo of Sonicraft A2DX - Photo courtesy of Steve Puntolillo
---
---
---
Ampex Model 350 Tape Machine
Do you have content, to add, about the Ampex Model 350 Tape Machine or associated topics? Please feel free to Share it, here!
What other Visitors have said about the Ampex Model 350 Tape Machine
Click below to see contributions from other visitors to this page...

Jazz Composer, Pianist Dave Brubeck by Richard Majestic

Dave Brubeck, who died one day short of his 92nd birthday (December 5, 2012), wasn't my first interest in modern music, yet I have come to see him as a …
Ex Ampex employee Not rated yet
I worked at a company that rebuilt Ampex recorders. Also, built replacement heads for them. Then I worked for Ampex in Colorado Springs. Dan
For Love Of The 350 Not rated yet
I am a Broadcast Engineer that began my career in the 60's as board op at a classical music FM station. We used the Ampex 350 machines to play voice …