Ampex AG-440B
Message Board - AMPEX AG-440B General Discussion
---
Ampex Model AG-440B and AG-445B Magnetic Tape Recorders and Reproducers have a very-quiet tape transport usable with 1/4-inch or 1/2-inch tape, and have solid-state plug-in electronic modules. Up to two channels can be used with 1/4-inch tape, and up to four with 1/2-inch tape. The AG-440B is a record/reproduce machine, and the AG-445B is a reproduce (only) machine.
The tape transport, designed for very quiet mechanical action, consists mostly of sub-assemblies which may be removed without unsoldering connections. Heads plug into receptacles inside the head housing for easy removal and installation. Most relays and electronic circuits are also the plug-in type.
The AG-440B tape recorder/reproducer is available either mounted in an Ampex console, mounted in portable cases, or unmounted for vertical or horizontal installation in a rack or custom console. The basic system consists of a tape transport, a head assembly, and one record/reproduce electronic unit for each channel. Each record/reproduce unit contains a built-in Sel-Sync circuit for recording added channels in perfect synchronization with previously recorded channels. Plug-in accessories, such as a microphone preamplifier, a balanced line-input transformer, and a remote control unit are available as optional equipment.
The AG-445B reproducer is available either in a console or unmounted for installation in a rack or custom console. Up to four reproduce electronic modules will fit in the supplied mounting tray.
Foundational text courtesy of AMPEX 440B Operation and Service literature.
---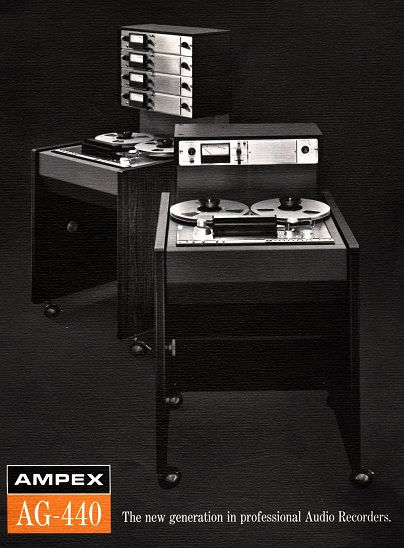 - Ampex Brochure Circa 1967 -
---
---
---
---
---
---
Ampex AG-440B Tape Machine
Do you have content, to add, about the Ampex AG-440B Tape Machine or associated topics? Please feel free to Share it, here!
What other Visitors have said about the Ampex AG-440B Tape Machine
Click below to see contributions from other visitors to this page...

Remote control for original 440? Not rated yet
Hi, I have an original (not B or C rev) 440 and bought a remote for it, but do not see a receptacle for it on the control box. Were there no remote …