Bob Shoppe
Message Board - Bob Shoppe
---
Tony Cucurullo writes:
"Bob Shoppe, another CBS-NBC-Columbia Records, renaissance man of the industry, has passed on. I worked with Bob along with Bill Delaney, Bob Vernum, Bob Zagoren, Joe DiGiovanni at NBC in the early 1950s. He was a quiet unassuming type. That is until the members of his crew voted for a Shop Steward, and the man that was voted in refused because it "would hurt his image." Bob assumed that task and proved that man wrong. You see he was never discriminated against because of his Union affiliations. But, was respected by the companies he worked for, because of his talent. Bob had a ready smile and his quiet manner spoke volumes for him. The lounge in the SKY is getting kinda crowded, but there will always be room for people like Bob Shoppe.
Tony Cucurullo"
Foundational text courtesy of CBS Retirees Ramblings.
---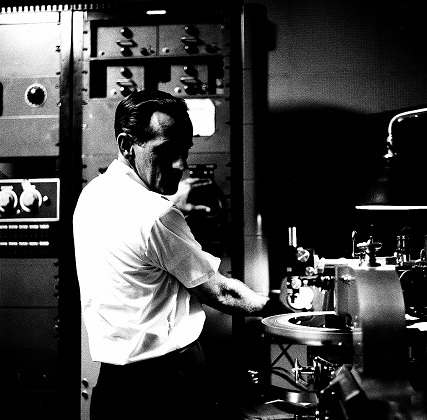 - Bob Shoppe - Columbia Studio's New York, NY - Mastering Engineer. Photo courtesy of George Schowerer.


---
---
---
Write about Bob Shoppe!
Do you have content or pictures, to add, of Bob Shoppe? Do you just want to say "Hello!"? Please feel free to Share it, here!