HALF OF MY SOUL
by THEODOROS ANASTASOPOULOS
(MELBOURNE AUSTRALIA)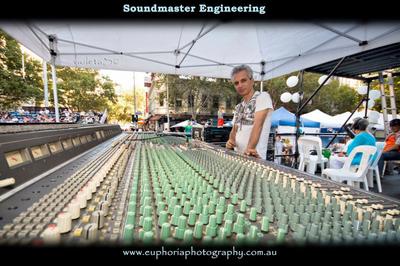 MY NAME IS THEODOROS AND I WAS BORN IN ATHENS GREECE AT 1965.


I WAS ATTRACTED FROM THE LIVE MUSIC FROM VERY YOUNG AGE.
I START WORKING IN MUSIC AND SOUND INDUSTRY FROM 14 YEARS OLD.
I HAD MY OWN SOUND COMPANY AT AGE 21 AND I OPEN MY 1ST RECORDING STUDIO AT AGE 24. THEN I START WORKING WITH BIG NAMES AND TALENTED PROFESSIONAL MUSIC PLAYERS WHO MAKE ME START FEELING ARTIST LIKE THEM AND NOT JUST A SOUND ENGINEER. I WAS START TO MIXING WITH CREATIVE IDEAS ALL THE TIME.. AT AGE 30 I WAS ONE OF THE MOST SUCCESSFUL SOUND ENGINEERS IN MY COUNTRY WITH MY SECOND AND BIGGER RECORDING STUDIO. I HAD THE GOOD LUCK TO WORK AND CREATE WITH THE TOP ARTIST IN A FEW OTHER BIGGER STUDIOS IN MY COUNTRY WHO TEACH ME AND DRIVE ME IN THE WAY TO BE WHO I AM. NOW I LIVE IN AUSTRALIA THE LAST 11 YEARS AND MIXING ONLY LIVE MUSIC IN A FEW CONCERTS PER YEAR. I LOVE BOTH WAYS "STUDIO AND LIVE CONCERTS" FROM BOTH AREAS I GET THE VIBES I NEED TO KEEP MOVING IN THIS WAY AND CREATE MORE THAN EVER....ONE OF MY DREAMS IS TO FIND THE OPPORTUNITY TO MIX WITH SSL MIXER. I'M INTERESTED TO START RECORDING AND MIXING AGAIN MUSIC PRODUCTIONS.
RECORDING STUDIOS, LIVE CONCERTS AND TALENTED PROFESSIONAL ARTISTS MAKE MY LIFE MAGIC.. FROM THE RECORDING STUDIOS I HAD THE RIGHT EXPERIENCE AND KNOWLEDGE WHO MAKE ME SUCCESSFUL IN ANY STYLE OF MUSIC....AND SOMETHING MORE: HALF OF MY SOUL IS STILL THERE.... CONGRATULATION FOR THIS SITE AND I HOPE THE PEOPLE LIKE YOU GUYS FIND THE RIGHT WAYS TO KEEP MUSIC AND MUSIC INDUSTRY ALIVE...MUSIC IS THE BIGGEST GIFT IN THIS LIFE...THANK YOU
THEODOROS ANASTASOPOULOS