MM-1000 headblock assembly examples
by Cory
(Oregon)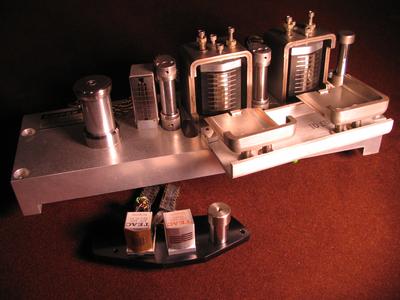 1
Here are several examples of MM-1000 headblock assemblies.


MM-1000's were commonly fitted with headstacks of both Ampex manufacture (also called the "black-face" heads), as well as IEM.
All of the MM-1000 headblock assemblies featured the mu-metal head "cans", and mini Winchester connectors featured on other models. Four readily accessible socket-head cap screws fasten the assembly to the transport plate allowing for relatively rapid exchanges.
Notice that the 1" 8-track assemblies were fitted with two jewel-bearing scrape-flutter idlers; one between the erase and record headstacks, and the other between the record and play headstacks. The 2" assemblies are fitted with a sole scrape-flutter idler between the record and play headstacks.
Pictured here are three different headblock assemblies.
The first is my primary 1" 8-track assembly. This assembly has been customized with an MM-1000 1" rolling guide upstream of the erase headstack where normally a static guide resides. Furthermore this assembly is fitted with 440C-8 record and play headstacks which feature approximately triple the number of laminations as compared to the original Ampex headstacks fitted to the MM-1000. For fun, the assembly is pictured with a (dwarfed) Tascam 388 1/4" 8-track assembly.
The second assembly is my 2" 16-track assembly fitted with IEM record and play headstacks. Many thanks to Steve Puntolillo of Sonicraft, Inc., and David Ollard of Thin Brown Line for gathering and forwarding the original basket-case collection of parts that comprise this assembly.
The third assembly pictured is a 2" 16-track "black-face" assembly that was in my possession for a brief period of time.
Like the rest of the MM-1000, the headblock assemblies appear to me as wonderfully chunky and utilitarian over-engineered works of art.
Cory