Recording the Album "LIFE" with Criteria Studios Top Musicians
by Kitty Woodson Terry
(Sebring, Florida)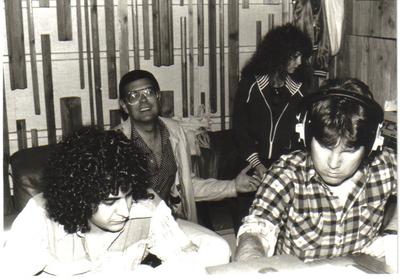 Steve Klein, George Terry, Freddie Haayen,Kitty Terry in Studio B
THE STORY OF THE "LIFE' RECORD
Recorded at CRITERIA RECORDING STUDIOS
Dedicated to
Freddie Haayen" Record President WEA International"
In 1981-1982 George Terry and Kitty Woodson began looking for a record deal. George Terry had just finished his touring with Eric Clapton and his companion Kitty Woodson was a talented songwriter as well as a studio musician.5 years of touring and performing the world was at an end. With the abundance of talent there were a few musicians who were making all the Bee Gee records, Andy Gibb, Barbra Streisand, Joe Cocker, DION, ABBA, Olivia Newton John, Bellamy Brothers, just so many big artists were coming to Criteria Studios to get that sound and those players on their recordings.
When suddenly George Terry and Kitty Woodson Terry finally got the break they were waiting for. Under the guidance of studio recording engineer Steve Klein, who was a resident recording engineer,and Freddie Haayen,Record President WEA International, they began to record the album "LIFE" with Elektra Records and WEA International. This was suppose to be a big record. The musicians were the greatest found those days. Joey Murcia (Rythm Guitar), Harold Cowart (Bass), George Bitzer (Piano/keyboards), Bruce Nazarian (Keyboards),Jamie Oldaker (Drums), George Terry,(some of the greatest guitar work and songwriting), and Kitty Woodson Terry (Vocals and songwriting). That was it. That was all it took to make a great record. The rhythms were played in excellence. This record was over looked by Tom Dowd who kept peeping in and giving advice.
Created in Studio B of Criteria. The songs can be heard on CDBaby.com/George Terry and CDBaby.com/Kitty Terry "Life Goes On". The importance to the sound of this studio is a testament to what gave it that special feeling and sound when you hear those records. Many of the musicians are no longer with us but their reputations and track records are known on so many of the greatest recordings and will live on forever. Isn't that what we are doing this for, to create a legacy? Jamie Oldaker, Clapton recordings, Harold Cowart, "Rainy Nights In Georgia/ "Bee Gee's", Joey Murcia/ "Bee Gee's" and "Gibb Music" and many others, George Bitzer played on everything, George Terry played on everything from Clapton to ABBAmand and was a master guitarist and also played on all the artist that came to record at the studio, Kitty Woodson Terry, "Stephen Stills" and "DION", John Cougar Mellancamp, and session work on so many recordings, as well as other types of projects
.
This album says it all about the great times and music that came out of Criteria Studios and Mac Emmerman's dedication to excellence and being a good guy giving us all a break on hourly fees so we could make those records. The record was finished and celebrated with a trip to the Grammy's in 1982. It did well in Europe but the US market was a tough one. It stands today as a great accomplishment to Criteria Sound Recordings and the players behind the music.
It can be heard at itunes and CDBaby.com/KITTYTERRY "Life Goes On" and on Youtube. George Terry can be found on iTunes and at CDBaby/George Terry
I am so happy to have had the opportunity to have recorded there and experience sitting next to Donny Hathaway, going out with Greg Allman to relieve recording stress. I took him to dinner at the Rusty Pelican. The day Fleetwood Mac walked in and Buckingham playing in Studio B was a dream. Just so many great experiences.
Kitty Woodson Terry