Studer A807 Tape Machine
Message Board - Studer A807 General Discussion
---
With the Studer A807's compact and rugged design, its system flexibility, and the high operating convenience afforded by its microprocessor, the STUDER A807 tape recorder satisfies all requirements of a universal studio machine, be it radio or television studios, recording studios, theater, film, auditoriums, or scientific institutes.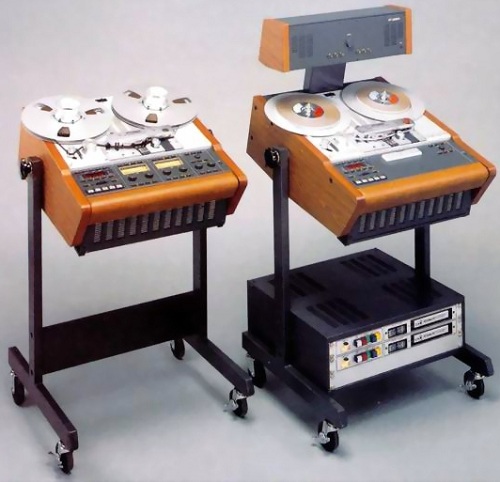 Its salient features are:
■ Highly stable die-cast aluminum alloy chassis for the tape transport, the headblock, and other assemblies. The new design extends the possible tape capacity and allows operation with 1000m standard tape.
■ Hall-commutated brushless DC capstan motor with capacitative tacho sensor for highly accurate tape speed and outstanding acceleration and deceleration rates.
■ Fast tape deck with high tape spooling speeds and gentle processing of the tapes by electronically controlled tape tension, 2 controlled AC spooling motors with photoelectric tacho sensors and noncontacting tape tension sensor.
■ Precision electronic tape counter with real-time indication. Photoelectric scanning of the guide roller rotation.
■ Easy editing: motor-assisted with variable spooling speed (SHUTTLE mode) or manually by turning the right-hand reel (one-handed editing). For cueing in spooling mode, the high end of the frequency response is lowered.
■ Monitor speaker below the tape deck cover or in the penthouse.
■ Manually operable shield above the reproduce head; can remain closed in spooling mode.
Due to the enormous system flexibility, a suitable A807 version is available for any type of application:
■ The basic version is available as a mono, 2-channel or stereo machine with or without external instrument panel. Special versions are available for timecode applications and for 1/2" tape (four channels).
■ Can be operated in horizontal, inclined, or vertical position.
■ Three of four available tape speeds can be selected: 3.75/7.5/15/30ips. Depending on the configuration either the slowest or the fastest speed is not available.
■ The 1/2"-4-track tape recorder is available with the tape speed configuration: 7.5 / 15 / 30ips (19 / 38 / 76cm) only.
■ The inputs and outputs are balanced and floating, with input/output transformers.
■ Either with selector switch for two tape types with different calibration data, or with selector switch for NAB/CCIR equalization.
■ Zero locator and transfer locator for up to 3 addresses as standard features.
■ Dolby HX PRO headroom extension system as standard feature.
■ Equipped with varispeed (variable tape speed).
■ Keys for input and output selection on models equipped with VU meters:
Input selection:
MIC ON (microphone input; this input does not exist on units equipped with external instrument panel); LINE ON (line input). The microphone inputs are always equipped with a 48V phantom power (changeover to 24 or 12V possible.
Output selection:
INPUT, REPRO, and SYNC (reproduction via record head).
VU-meter panel with input and output selection keys, level potentiometer for recording.
■ Adjustable for line voltages of 100 to 140V / 200 to 240VAC, ±10%, 50...60HZ.
■ Can be remote controlled from a terminal or personal computer via an RS232 interface.
■ Connection facilities for fader start circuit, parallel and serial remote control.
High operating convenience afforded by microprocessor control:
■ The last operating state is saved when the machine is switched off: tape counter, locator addresses, tape speed, setting of the input and output selectors. The STOP mode is automatically activated when the machine is powered on again.
■ Drop in by pressing only the REC key in play mode (internally programmable)
■ Drop out by pressing PLAY during a recording.
■ Reduced spooling speed (LIBRARY WIND): A lower spooling speed can be selected for producing pancakes that are to be saved in the library.
■ REVERSE PLAY
■ TAPE DUMP (waste basket mode with disabled take-up motor).
■ LAP TIME (second time level for measuring individual tape segments without influencing the main tape counter).
■ Adjustment of the audio parameters and setting of "soft jumpers" via the keyboard.
■ LOC START positions the magnetic tape automatically at the address at which the last play or record command (for standstill) was entered.
The following options available are:
■ Mono/stereo switch with or without test generator (60,125Hz, 1,10,16kHz) available:
■ Tape scissors and tape marker as well as a headblock cover plate with integrated scissors/splicing block.
■ Additional splicing block for units without VU-meter.
■ Synchronizer interface.
■ Extern connection for INSERT-lnput (slave points).
■ Audio remote port.
■ Elapsed time meter.
■ Noise reduction port.
Foundational text courtesy of Studer Literature.
---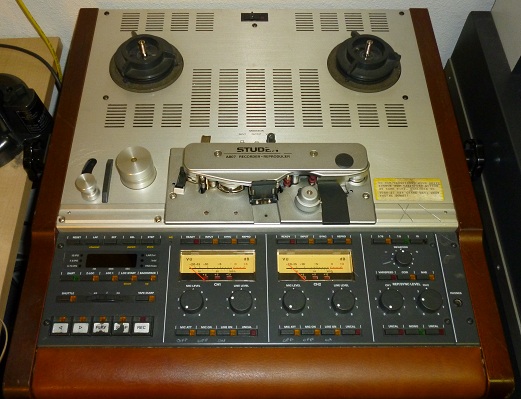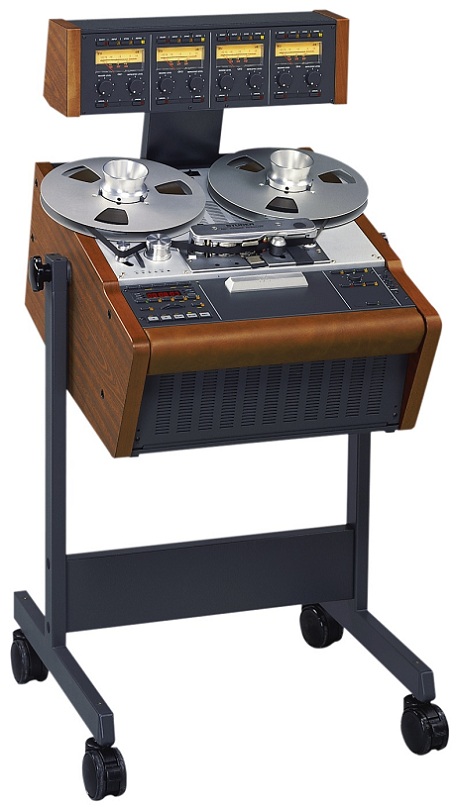 ---
---
---
Studer A807 Tape Machine
Do you have content, to add, about the Studer A807 Tape Machine or associated topics? Please feel free to Share it, here!