Bernard "Pretty" Purdie
Message Board - Bernard "Pretty" Purdie
---
Bernard Lee "Pretty" Purdie (born June 11, 1939) is an American session drummer, and is considered an influential and innovative exponent of funk. He is known for his strict musical time keeping and "The Purdie Shuffle".
Purdie recorded Soul Drums (1968) as a band leader and although he went on to record Alexander's Ragtime Band, the album remained unreleased until Soul Drums was reissued on CD in 2009 with the Alexander's Ragtime Band sessions. Other solo albums include Purdie Good (1971),Soul Is...Pretty Purdie (1972) and the soundtrack for the Blaxploitation film Lialeh (1973). Purdie was credited on the sound track album for Sgt. Pepper's Lonely Hearts Club Band (1978) and more recently he was the drummer for the 2009 Broadway revival of Hair and appeared on the associated Broadway cast recording. In 2010, he had his portrait painted by Jane Moorhouse, an artist based in London. At an early age Purdie began hitting cans with sticks and learned the elements of drumming techniques from overhearing lessons being given by Leonard Heywood. He later took lessons from Heywood and played in Heywood's big band. Purdie's other influences at that time were Papa Jo Jones, Buddy Rich, Gene Krupa, Joe Marshall and Art Blakey.
In 1961 he moved from his home town of Elkton, Maryland, to New York. There he played sessions with Mickey and Sylvia and regularly visited the Turf Club on 50th and Broadway, where musicians, agents, and promoters met and touted for business. It was during this period that he played for the saxophonist Buddy Lucas, who nicknamed him 'Mississippi Bigfoot'. Eventually Barney Richmond contracted him to play session work. In the same year original Beatles drummer Pete Best and guitarist Tony Sheridan recorded tracks in Hamburg with the Beatles. Later Bernard Purdie added drum overdubs to tracks from these sessions, including "Ain't She Sweet", "Take Out Some Insurance on Me Baby" and "Sweet Georgia Brown". The main reason for this was to give them a punchier sound for the US market. These tracks were eventually released on January 31, 1964 by Polydor. Ringo Starr's physical approach to drumming was probably influenced by Purdie's Motown style.
Purdie was contracted by arranger Sammy Lowe to play a session with James Brown in 1965 and recording session records also show that Purdie played on "Ain't That A Groove" at the same session. This was one of several sessions he played with Brown and the track "Kansas City" from Brown's album Cold Sweat (1967), displays one of the most sophisticated and driving shuffles recorded for Brown's catalogue. Purdie is also credited on the albums Say It Loud-I'm Black and I'm Proud (1969) and Get on the Good Foot (1972) on which "Ain't That A Groove" appeared. Purdie started working with Aretha Franklin as musical director in 1970 and held that position for five years, as well as drumming for Franklin's opening act, King Curtis and The King Pins. In 1970 he performed with both bands at the Fillmore West; the resulting live recordings were released as Aretha Live at the Fillmore West (1971) and King Curtis's Live at Fillmore West (1971). His best known track with Franklin was "Rock Steady", on which he played what he described as "a funky and low down beat". Of his time with Franklin he once commented that " backing her was like floating in seventh heaven".
Purdie is known as a groove drummer with immaculate timing and makes use of precision half note, backbeats, and grooves. Purdie's signature sixteenth note hi-hat lick pish-ship, pish-ship, pish-ship is distinct and hard to copy and he is known for his versatility. He often employs a straight eight groove sometimes fusing several influences such as swing, blues and funk. He created now well-known drum pattern such as the Purdie shuffle, Half-Time Purdie Shuffle, also the Bernard Purdie half-time feel shuffle that is a blues shuffle variation with the addition of syncopated ghost notes on the snare drum. Variations on this shuffle can be heard on songs such as Led Zeppelin's "Fool in the Rain", Death Cab For Cutie's "Grapevine Fires", and Toto's "Rosanna" Rosanna shuffle). Purdie's shuffle can be heard on Steely Dan's "Babylon Sisters" and "Home At Last".
Bernard "Pretty" Purdie, "The most recordered drummer in the world" - Mira Sound Studios, NYC Session - Photos courtesy of George Schowerer.
---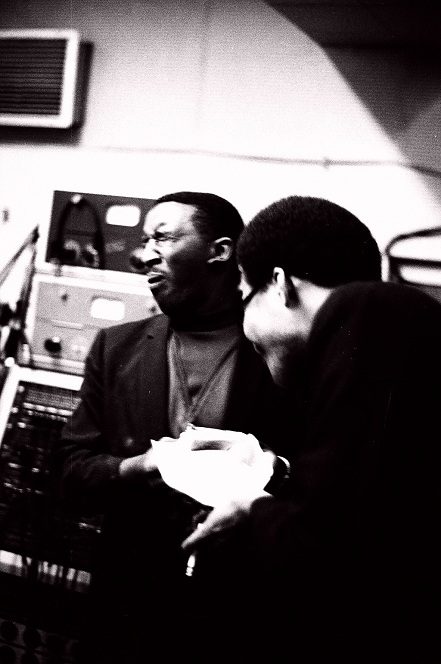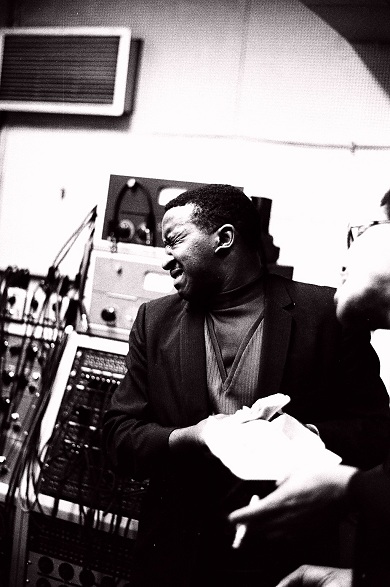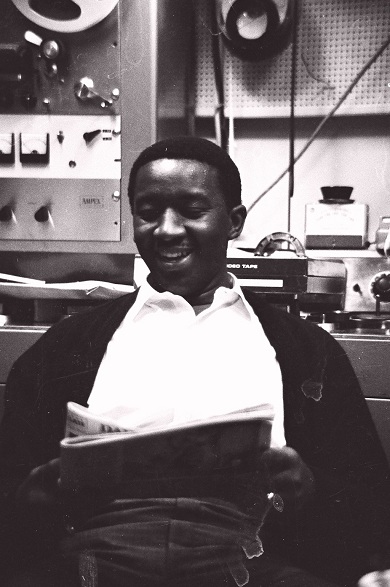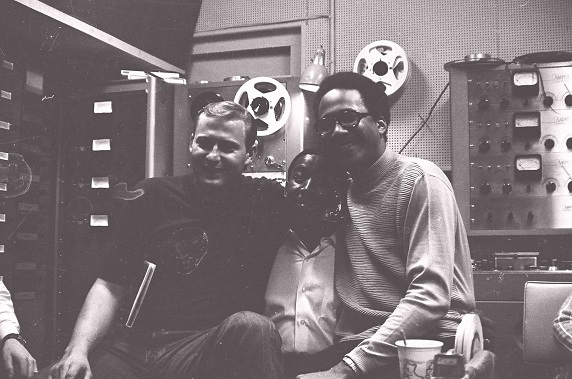 ---
---
---
Write about Bernard "Pretty" Purdie!
Do you have content or pictures, to add, of Bernard "Pretty" Purdie? Do you just want to say "Hello!"? Please feel free to Share it, here!
What other Visitors have said about Bernard "Pretty" Purdie!
Click below to see contributions from other visitors to this page...