Revox A77 Professional Tape Machine
---
Message Board - Revox A77 Professional Tape Machine - General Discussion
---
The well-known reliability of the Revox A77 is a result of a professional design concept, a concept which successfully combines the advantages of a solidly constructed tape transport mechanism with the advantages of an advanced electronic circuit design. A 3-motor transport mechanism with electronically regulated capstan motor and solenoid operated servo-brakes possesses few parts which are subject to mechanical wear. The use of a diecast motor chassis and head support ensures that a high degree of mechanical precision and long term stability are maintained, even under excessively heavy use. The mechanical and electronic properties thus complement each other in a most successful way.
Rugged 3-Motor Tape Drive
With its 3 motors on a solid die-cast chassis, the A77 possesses the basic design features of a professional tape recorder. Due to the direct drive principle, there are no friction wheels, clutches or belts needed. This makes for a mechanically simple drive system with only a few movable parts. Thus, wear is reduced to a minimum, a point of vital importance for the long life of a tape recorder.
By using this 3-motor principle, each function has been optimized. The spooling motors are designed to cope with normal tape tension and high speed winding, which can be made very fast even with 10.5 inch reels, while the capstan motor is solely responsible for the linear forward motion of the magnetic tape.
Electronically Regulated Capstan Motor
Uniform motor speed - and with it even tape motion - does not rely on utilizing the power line frequency, but is controlled instead by an internal electronic regulating system. Tape speed is thus stable and to a high degree independent of any variation in power line voltage or frequency. Therefore, the A77 may also be used by driving it from batteries (via an inverter with sine wave output) and nothing whatsoever has to be changed when moving from a 50 Hz to a 60 Hz electric supply area or vice versa. The change of tape speed is also achieved electronically, free of any mechanically wearing parts, and free of any influence on the characteristics of the tape drive mechanism.
Electronic Control of Tape Drive Functions
All functions of the tape drive mechanism are controlled by a simple relay logic. This makes possible soft "finger touch" switching, as well as remote control of all operating modes. Solenoid activated servo-brakes ensure safe and positive stopping of the tape even from the highest winding speed.
Modular Amplifier Circuitry
The audio electronics of the A77 offer the following typical characteristics: extremely low distortion; high signal to noise ratio; linear response and exact equalization characteristics. All amplifier boards plug in for easy servicing. Only the combination of these properties makes for a recorder of outstanding quality.

REVODUR Sound Heads
The REVODUR sound heads have improved magnetic characteristics and a much higher life expectancy. Consistent quality is thus assured since STUDER REVOX designs and builds their own magnetic heads.
Exact Calibration
Separate calibration controls for each speed and channel permit precise bias and equalization adjustments of the A77. This forms the basis for the excellent recording characteristics of all A77 recorders, because our published specifications are minimum values, which must be met by each and every recorder.
A77 Professional Inputs
The A77 professional recorder is available in 7 ½/15 IPS half & full track configuration and is fitted with Cannon XLR connectors on inputs and outputs. Inputs are balanced, line level and require +8dBM for full tape modulation. The input levels are preset and no front panel adjustments are provided. The outputs have independent line amplifiers providing a balanced +8dBM preset line level. In addition an adjustable output is provided to feed headphones or unbalanced equipment. Optional plug in 8 watt amplifiers are available for the half track machine to drive external speakers or the 4 internal speakers included in the suitcase version.
Specifications
Line: Balanced; sensitivity +8dBM (preset for full modulation; Cannon XLR3 connectors.

---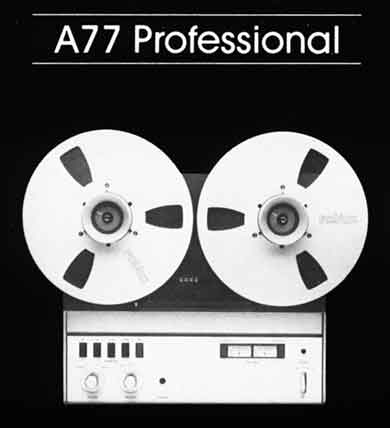 ---
Revox A77 Professional Tape Machine
Do you have content, to add, about the Revox A77 Professional Tape Machine or associated topics? Please feel free to Share it, here!
What other Visitors have said about the Revox A77 Professional Tape Machine
Click below to see contributions from other visitors to this page...

Swiss Engineering at its best Not rated yet
I have a 1973 ReVox A77, and it's so incredibly detailed and sophisticated. The only Achilles heel of it is the life of the heads - at 900 hours, that's …