Criteria Recording Studios Miami, FL - Carla Harned's newspaper clippings collection
---
Message Board - Criteria Recording Studios Miami, FL - Carla Harned's newspaper clippings collection - General Discussion
---
Criteria Recording Studios was established in 1958 as an outgrowth of founder Mack Emerman's hobby. Originally a trumpet player, Mack's jazz leanings led him to begin recording in his home and later on-site. Criteria was the first in the Southeast with monaural disc mastering and stereophonic recording in 1954.
The purchase of the original building in 1958 saw the beginnings of a business in earnest. The facility quickly became a haven for technology advancements. Multitrack recording saw it's birth with the advent of 3 track recording in 1958 followed by four track recording in 1966 both firsts in this part of the country. Criteria's spiffy (8) eight channel console was the cutting edge of technology in 1964. The studio was also one of the first to utilize a live stereo chamber way back in 1966.
Below is a collection of Carla Harned's (wife of the late Jeep Harned)Criteria Recording Studios Miami, FL newspaper clippings.
---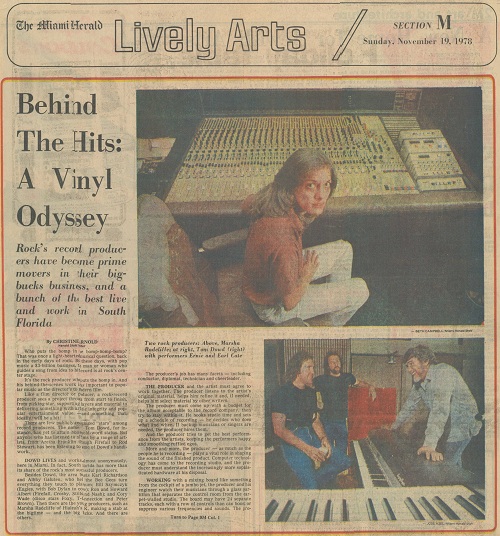 By the end of 1969 and 1970, both studios were booked around the clock and months in advance. With the monster success of projects including James Brown's "I Feel Good", Aretha Franklin's "Young, Gifted and Black", Derek & the Dominoes "Layla" and Brook Benton's "Rainy Night in Georgia" it was almost impossible to get in the doors. In early 1971 construction began on Criteria's third recording space: Studio C.
---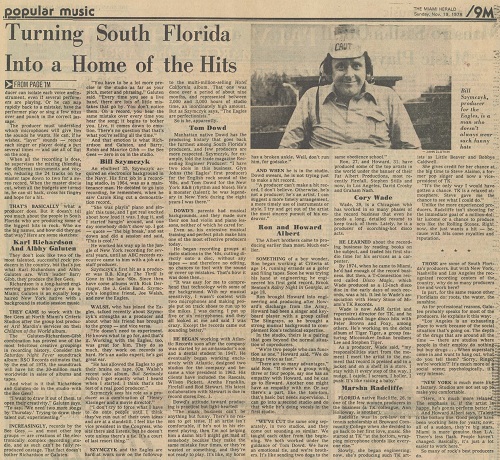 In early 1972, Studio C was completed. The next ten years were a succession of chart topping musical landmarks. From Eric Clapton's "461 Ocean Blvd.", (where Golden Beach's Mayor now lives) Fleetwood Mac's "Rumors", Black Sabbath's "Heaven & Hell" to the Bee Gee's "Saturday Night Fever". As with all of Criteria's rooms, Studio C's acoustics and equipment were modified as superior technology became available. The most recent renovation was completed in 1997. A complete control room overhaul was coupled with an incredible sounding new console: an API Legacy.
---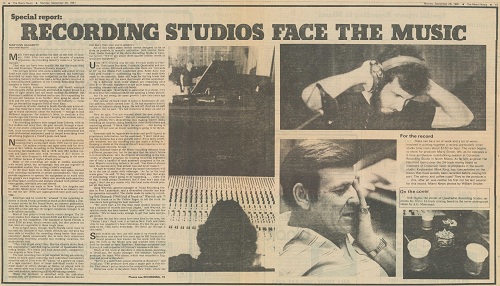 As the 1970's danced on and the platinum record count went up, history repeated itself. Despite the construction of Studio C, every room at Criteria had a waiting list. So we built Studio D. This recording space offered a warm intimate setting. The control room was dominated by a custom built automated MCI 532 console. Based on a long and beneficial relationship, Criteria and MCI founder Jeep Harned found themselves on top of the recording world. Introduced to Criteria by legendary producer/engineer Tom Dowd in the late 1960's, Harned's innovative designs helped Criteria stay at the forefront of technology. Equipment, like that console, custom designed to the demanding specifications of our clientele set a standard we try to live by today. In the early 1990's an SSL 6048 replaced the venerable MCI.
---
In 1979 the music business took a dive. The era of crazy record label spending was at an end. The days of "... here's a bag of money- call us when the record's done" were over. Massive studio closures occurred nationwide. Criteria endured, however there were some changes. The practice of staff engineers was abolished. Many went on to great things; among them were Don Gehman, Alex Sadkin, Albhy Galuten and Karl Richardson. In addition, the space occupied by the original studio B was retired as a recording studio and converted into storage.
---
All bad things must come to an end; and so the recession eventually petered out. The 1980's saw a string of artists leading the way. Among them, Julio Iglesias, The Romantics, Bow Wow Wow, John Denver, Meatloaf, Peter Frampton, Bob Seger and Ted Nugent. With the business on the rise, 1981 saw the undertaking of Criteria's most ambitious expansion: Studio E. The addition to the existing structure included new offices, expansive private lounges and even a waterfall. Designed by John Storyk, Studio E incorporated Cuban tile, pecky cypress, stained glass and 27 foot peaked ceilings. Upon its opening, the control room featured a custom built massive 56 channel MCI console and twin 24 track machines. Once the studio was complete, Criteria's disc mastering facility was relocated to the new wing directly atop Studio E.
---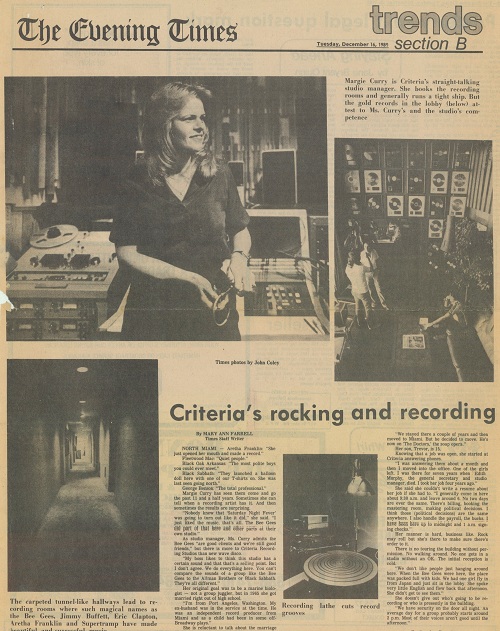 With the increasing sophistication of technology, 1984 saw Criteria take delivery of the first SSL in the state. It was installed into the still relatively new Studio E. Later the same year, it was joined by the first digital multitrack and two track (Mitsubishi) recorders. In 1998 the control room was completely gutted and redesigned by acoustician George Augspurger.
---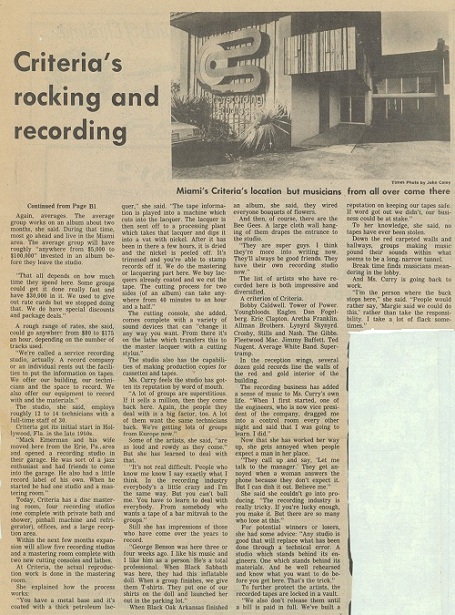 With the rousing success our first SSL, a second was delivered in mid 1986. The space previously occupied by the Criteria Cutting Center was modified to accommodate the second console and opened as a mix suite. It became the new Studio B. As for the disc mastering room, it was reopened as Fuller Sound. Still located in the Criteria complex, longtime mastering engineer Mike Fuller purchased the company and promptly installed a NEVE DTC console. He put in other stuff too, but that's his story...
---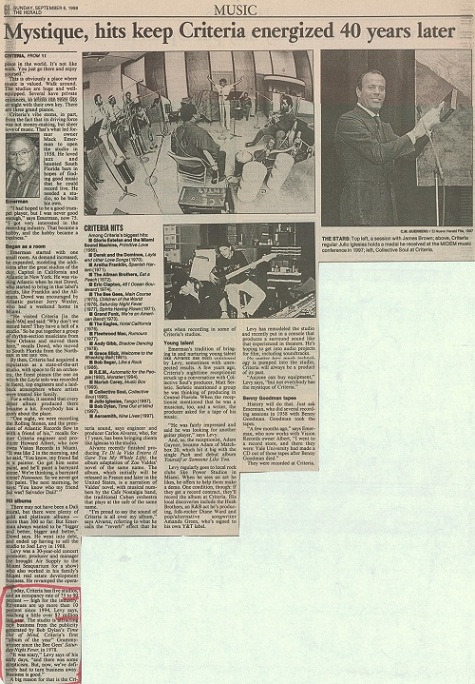 ---
Eight years later, our clientele began hinting, in no uncertain terms, that forty-eight channels for a world class mix room was inadequate. Studio B, underwent a complete redesign under the watchful eye of George Augspurger. The result houses a Solid State Logic 4096G plus. And if our clients ever decide to leave it empty for a day or two you're welcome to come work there.
Courtesy of Trevor Fletcher, Studio Manager
---
---
Do you have a great story about Criteria Recording Studios Miami, FL - Carla Harned's newspaper clippings collection
Do you have a great story, to add, about Criteria Recording Studios Miami, FL - Carla Harned's newspaper clippings collection or associated topics? Please feel free to Share it, here!
What other Visitors have said about Criteria Recording Studios Miami, FL - Carla Harned's newspaper clippings collection
Click below to see contributions from other visitors to this page...